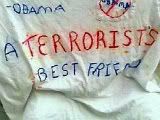 When Aurora Frontier K-8 School in Aurora, Colorado told students to show their patriotism by wearing red, white and blue shirts, apparently they meant only shirts the administration agreed with.
That's what fifth grader Daxx Dalton learned when he wore a homemade anti-Obama t-shirt to school. (That's the shirt on the left.) The school told him to turn the thing inside-out, and when Daxx didn't they suspended him.
"They're taking away my right of freedom of speech," he said. "If I have the right to wear this shirt I'm going to use it. And if the only way to use it is get suspended, then I'm going to get suspended."
The school district claims Daxx wasn't suspended for exercising his right to free speech but, rather, for "willful disobedience and defiance" when he wouldn't wear it inside out.
Frankly, I think this calls for an entirely new t-shirt: