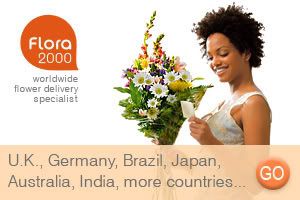 An haiku in honor of yesterday's Google spanking:
First, do no evil:
Google's promise long ago.
Then they made money.
Are you still licking your wounds after being thrashed by Google yesterday?
Here's a fun way to cheer up and win free flowers!
That's right: Electric Venom and the folks at Flora2000 – Premium Flowers Worlwide have teamed up to bring you this contest, with the lucky winner getting a prize of $80 in free flowers delivered anywhere in the United States WORLD!
Send roses to your roommate, or to me. How about an iris for someone in Israel, or for me? Snapdragons for someone in Saigon, or for me? You could order gardenias for your grandma in Greece, or for me. How about an azalea for your auntie in Aruba, or for me? Maybe you'd rather have a bouquet delivered down the hall to your boss, or to Kansas just for me? Well, as you can see, the possibilities are limitless! And, no, you don't have to send them to me.
How do you get in on the action? The rules are simple:
1. Write a haiku about Google. Love 'em, hate 'em, it doesn't matter: just make sure you stick with the format.
2. Leave your haiku in the comment section along with a valid email address so I can contact you if you're the winner. (Your email will not be shared with anyone else.)
3. Enter as often as you like, but only ONE entry per comment.
4. The winner will be announced Monday sometime before midnight (Central U.S. time.)
What are you waiting for? Have at it, folks!